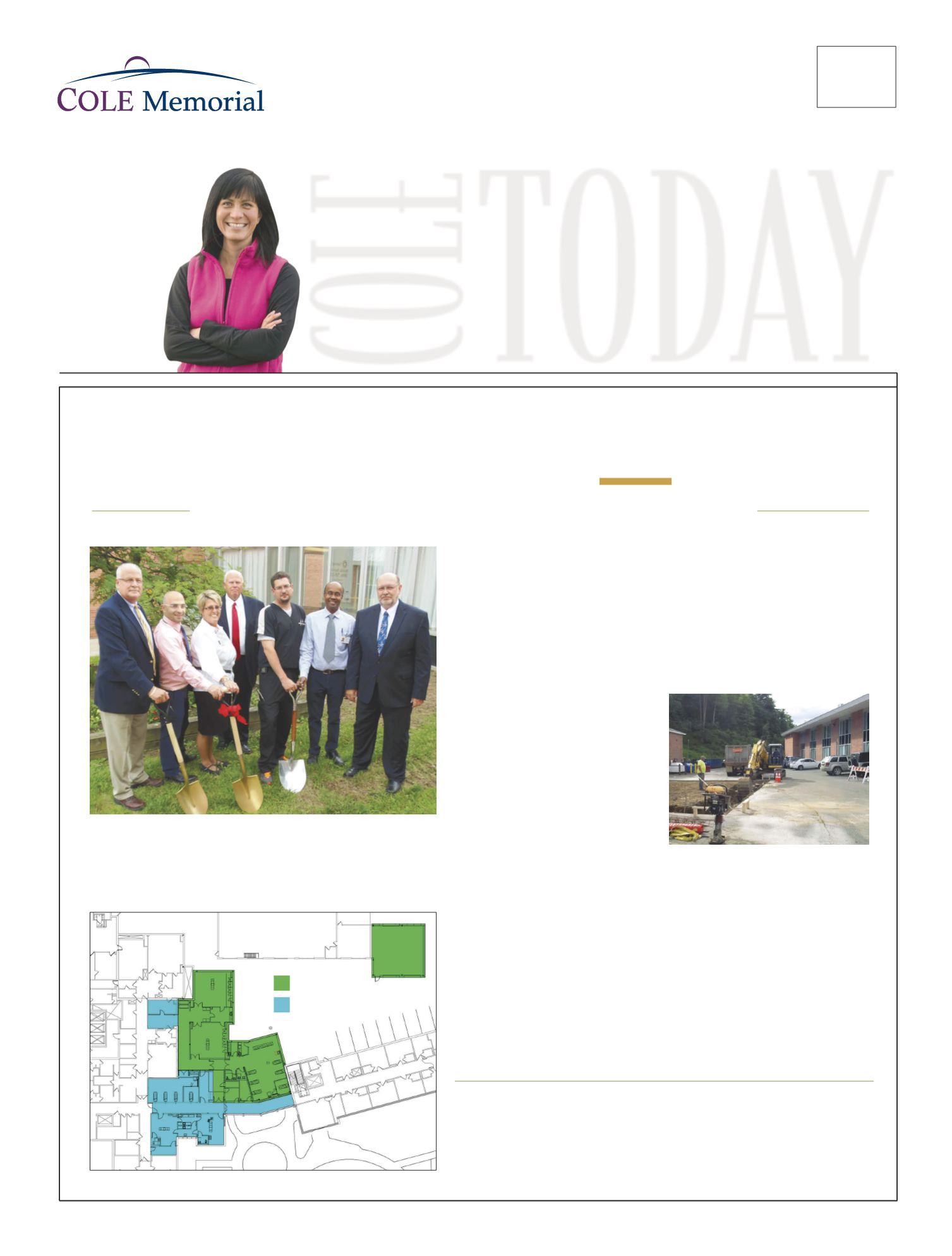 Scheduled for completion in 15 to
18 months, the multiphase construction
project involves a 6,027-square-foot ad-
dition to add two more operating rooms
(ORs), updates to the existing surgical
suites and enlargement of the pre- and
In addition, a new postanesthesia care
unit (PACU) will expand the current PACU
from three beds to six, and the preop-
erative patient holding area will increase
from two beds to a new four-bed unit. The
project also includes the renovation of the
existing endoscopy and minor procedure
suites, plus a two-bay garage addition on
the existing boiler plant to make room for
a new 480-volt generator, a new air chiller
and the replacement of the hospital's origi-
Overall, the $8.3 million project, which
is partially financed by Laurel Capital Cor-
poration, will improve patient privacy and
According to Ed Pitchford, Cole Memo-
rial's president and CEO, the leadership
team has been talking about updating
the surgical department since 2007. They
have recently done a lot of work pulling
everything together to get to this point of
building newer facilities for patients in the
Christan Caramia, MD, medical director
of surgical services at Cole Memorial, says,
"This project is a reflection of the Cole Me-
morial team's demonstration of how much
IKM Incorporated is the architect, and
Hallstrom Construction Inc. is the general
contractor for the project.
Upgrades to Cole Memorial's surgical wing underway
Cole Memorial Hospital has launched a major renovation and expansion
project to advance surgical services for its patients, providers and em-
"The community residents and our patients are the main
reasons for this project," says the Rev. Randall Headley, Cole Memorial's
board chairman. "However, we're also doing this so our staff has the
best-in-class facility and technology to deliver the finest quality of care."
No interruptions will occur in Cole Memorial's
surgical care during the construction period.
For more information, visit
GROUNDBREAKING: From left, Cole Memorial's Executive Director of
Surgical and Rehabilitation Services Dennis Geitner; Medical Director of
Maternity Services Mazen Fouany, MD; Director of Surgical Services Karen
McClelland; Executive Director of Building Services Tom Noe; Medical
Director of Invasive Services Christan Caramia, MD; Gastroenterologist and
Surgeon Saket Prasad, MD; and Chairman of the Board Rev. Randall Headley.
D E D I C A T E D T O I M P R O V I N G Y O U R H E A L T H A N D W E L L N E S S