1 / 4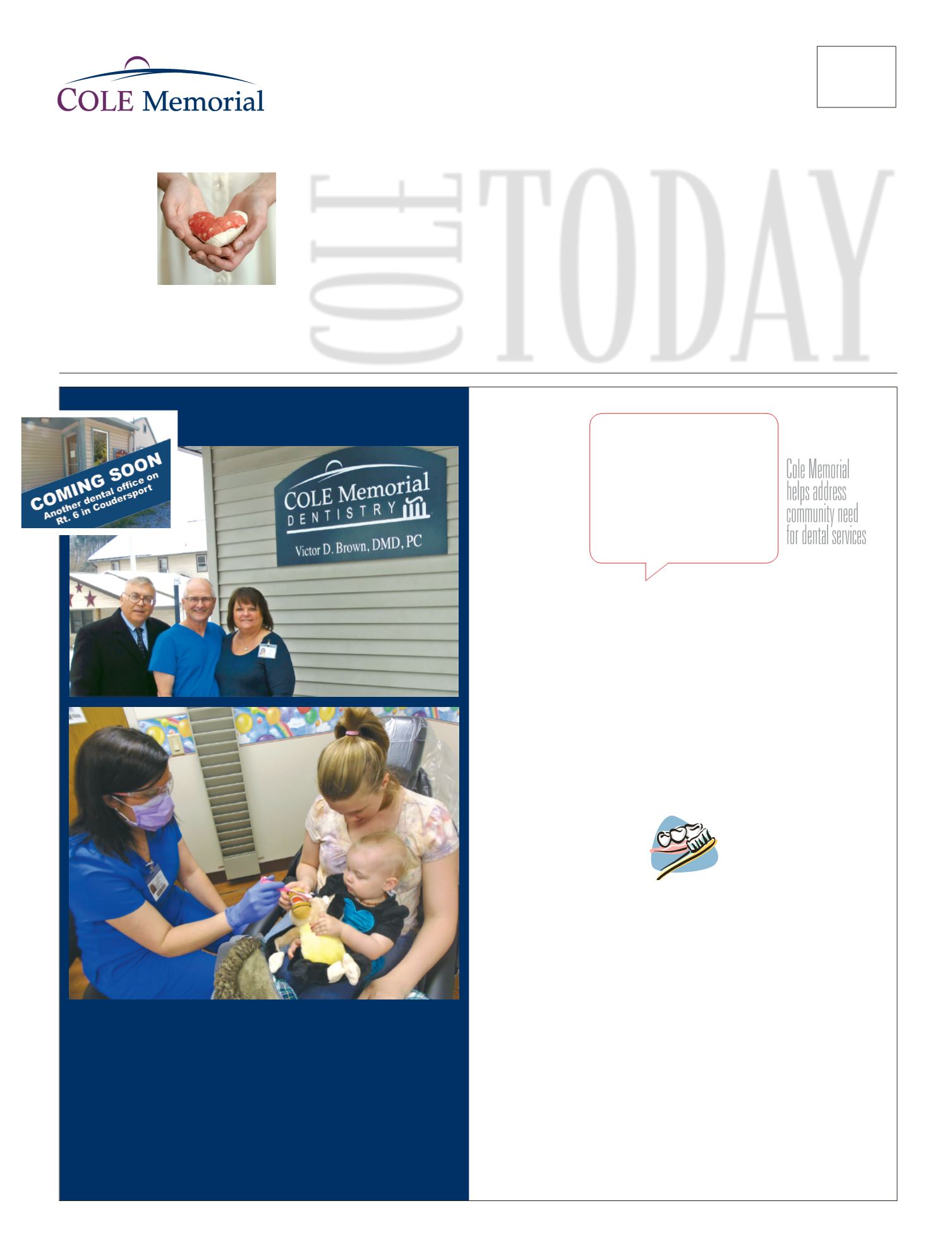 In 2012, the Cole Memorial board of directors approved a
plan to address six priorities identified through a commu-
nity health needs assessment conducted by Cole Memorial
TODAY
D E D I C A T E D T O I M P R O V I N G Y O U R H E A L T H A N D W E L L N E S S
●
S P R I N G 2 0 1 6
COLE
Nonprofit Org.
U.S. Postage
PAID
Platteville, WI
Permit No. 7
1001 E. Second St.
Coudersport, PA 16915
YOUR HEART'S IN GOOD HANDS
See how Cole Memorial providers can
help your heart stay strong.
SEE PAGE 3
Y
Cole Memorial Dentistry offers children's
dentistry services in the pediatrics depart-
ment at 814-274-9198, general dentistry
by Victor Brown, DMD, PC, at 814-274-1111
and Tod Twichell, DDS, at 814-274-5252.
WHEN YOU
SPEAK,
WE
LISTEN
leaders and volunteers. That plan
included addressing the shortage of
dental care available in the region.
As a result, a dental collaborative
was formed. It includes Shane Blake,
DDS; Victor Brown, DMD, PC; and
Pete Ryan, DMD, who assisted with
creating a dental services plan to
address these needs.
A grant was obtained through the
Pennsylvania Department of
Health, and in 2014 Cole Me-
morial hired a public health
hygienist who began working
with pediatricians of the Cole
Memorial Medical Group. Since then,
Cole has been searching to employ a
group of dentists to restore services
in communities across the region.
"We are pleased to announce that
effective Jan. 1, 2016, Cole Memorial
Dentistry launched with Dr. Vic
Brown being the first practice to
open under this new name," says
Cole Memorial's President and CEO
Ed Pitchford. "We are also pleased to
announce that effective April 2016,
Dr. Tod Twichell will be coming
to Coudersport and reopening the
former Pete Ryan dental practice
now named the Ryan Family Den-
tal Center. We continue to search
for a third dentist with a focus on a
new graduate to ensure continuity
of care to the region over time, and
we will continue to collaborate with
Dr. Blake to ensure that his private
practice thrives as he continues to
grow."
According to a consulting study
commissioned by ColeMemorial, this
region could use several dentists. So,
over time we hope to recruit at least
five dentists and place them in
areas easily accessible to com-
munities across this region.
Health systems across
the country are exploring
the needs of the communities they
serve to ensure adequate physical,
mental and dental care, coupled with
programs that promote health and
wellness. Cole Memorial continues
to be recognized as a leader in ru-
ral health systems, and solving the
dental needs is just one step in the
pursuit of these goals.
Cole Memorial Dentistry will pro-
vide general dentistry. Their dental
experts use advanced technology
and equipment to perform these
services. Cole Memorial Dentistry
accepts all major insurance plans in-
cluding Medicare and offers patients
without insurance affordable prices.
Major credit cards are also accepted.